Educational Events
TecsChange hosts public presentations and events throughout the year to provide the community with information about technology and its uses for social change, and to report on the progress of our work.
2009
.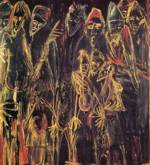 Machaka - "Helping a Neighborhood Cultural Association Make a Difference"
Tecschange recently donated 5 computers to an all-volunteer community cultural association based in one of the poorest urban neighborhoods of Maputo, Mozambique. Peter Young, a (former) Tecschange volunteer living in Maputo will talk about the project and how it is benefiting the community of Mafalala.
Wednesday, June 3, 2009, 7:00 p.m

Although TecsChange has not been hosting events recently we occasionally post announcements to our email subscribers about events that may be of interest to our supporters. We also encourage you to check out the Act-MA for information on a wide variety of progressive events in the greater Boston area.
2004
Indymedia and Social Movements in South America
Friday, January 9, 2004
Two activists from Indymedia Uruguay spoke about recent social movements in South America including the Gas War in Bolivia, the left and community radio movements in Uruguay and Brazil, the Piquetero movement in Argentina, and alternative media in Venezuela. Gabriela is a media activist from Montevideo who has been involved with community radio. Evan is a media activist from the US who has been working with groups in South America including IndyMedia centers in Colombia, Ecuador, Peru, Bolivia, Argentina, Brazil, and Uruguay.
2003
The TecsChange Documentary
Produced by Lynn Weissman in 2001 as part of the Visionaries Institute of Suffolk University, the TecsChange documentary is a hip urban film about TecsChange that has been shown since its inception at many venues. (For more information on Lynn Weissman, please visit www.suvfilm.com)
2003-2003 Festivals
Ladyfest Halifax, Canada, October 3, 2003
Green Reel Festival, Hollywood, CA, October 4, 2003
1st Boston International Film Festival, John Hancock Hall, July 4, 2003
Winner, 2002 Alliance for Community Media, Hometown Video Festival, Documentary Profile Category, July 12, 2002
4th Annual Roxbury Film Festival: Celebrating the Vision and Voice of New England Filmmakers of Color, Aug 15-18, 2002
Ladyfest East, New York University Cantor Film Center, NYC, September 22, 2002
Broadcast
Free Speech TV (FSTV)
Boston Neighborhood Network (BNN)
Cambridge Community Television (CCTV)
Somerville Community Access Television (SCAT)
Community Television South Berkshires (CTSB-TV)
2001-2003 Screenings
2003 Summerfest, Women in Film and Video/New England, Boston Public Library
2003 Filmmakers Open Studios, Boston
2002 Somerville Women's Commission Film Series
TecsChange's 10th Anniversary Celebration, 2002
Qingping Teahouse in the Boston's South End, 2002
The Love and Resistance film salon in Providence, RI, 2002
The Living End at the Jorge Hernandez Cultural Center in Boston, 2001
YouthTech Graduation
Thursday, August 21, 2003, 6:00pm
Eleven members of Teens Against Gang Violence presented the website that they created for TAGV to an enthusiastic and encouraging audience in TecsChange's Roxbury workshops. YouthTech aims to give young people the skills and tools to become media literate, and to make media for social change.
2002
Community Radio in El Salvador
:
Innovation and Empowerment
Saturday, August 10, 2002, 4:00 PM
José Alemán, is a representative (and the former executive director) of ARPAS, El Salvador's Association of Participatory Programs and Radio Stations. He spoke about the challenges and opportunities facing the community radio movement in El Salvador. ARPAS is an eight-year-old association of community radio stations, many of whom had their origins in the clandestine radio stations operated by the FMLN guerilla movement during the 1980's and early 90's. Currently its membership includes 24 community radio stations throughout the country, from large 20 megawatt transmitters providing national coverage to 20 watt neighborhood stations.
Alternative Energy and Agriculture in Cuba
Sunday, February 17, 2002, 7-9PM
TecsChange hosted two Cuban scientists for a evening presentation and discussion on alternative technologies addressing energy and agriculture in Cuba. Speakers included Victor Bruno Henríquez Pérez, Vice President of the Cuban Physics Society (Section on renewable and alternative energies) and Maria Caridad Cruz, of the Cuban Urban Agriculture Program at the Antonio Nunez Jimenez Foundation for Nature and Man. Victor Henriquez is a founding member of CubaSolar, a Cuban NGO where 400 scientists work on expanding electricity production and which hosts an international solar energy conference. CubaSolar has installed solar panels on more than 300 clinics in Cuba's remote mountainous region. Henriquez is also the Editor of Energia y Tu (Energy and You), a Cuban popular magazine focusing on the dissemination of renewable energy information.
Up until 1960, Cuba's electricity was based on petroleum, and was mostly for large cities and tourist places. The majority of rural areas had no electricity. The revolution of 1959 led to a big push for rural electrification, and by 1989, 96% of the country was electrified. However, Cuba was importing most of its petroleum from the socialist bloc at low prices. In 1989, with the falling of the socialist bloc, Cuba could not afford to buy petroleum on the international market. They had to cut from 4 million tons of petroleum per year to 2 million. The need to reduce their energy usage by 50% led to an extreme revamping of their energy plan, and a huge push for renewable energy.
2001
Cesar Montes, Guatemalan activist and political educator
Saturday December 1, 2001 at 2:00 PM
Cesar Montes, one of the founders of the resistance movement in Guatemala in the 1960's, and now a prominent leader of the Guatemalan democratic and progressive opposition, gave a short presentation and spoke about supporting projects he is involved in, providing education for displaced Guatemalans who are returning to their
country from Mexico. Cesar Montes is He is Secretary of Organization for the political party-in-formation United Democratic Left (UNID), which is member of the Alliance for a New Nation (ANN), a broad center-left coalition, and
the third political force in Guatemala. In 1997 Cesar Montes published an autobiographical account of his struggle, which is now in its 3rd edition. For more information about the presentation, TecsChange's other international work, our Computer Repair Course, or how to get involved, send an email to
tecschange@tecschange.org or call us at 617.442.4456.
Pastors for Peace Caravan, Spring 2001, to Chiapas, Mexico,
Honduras and Nicaragua
March 28, 2001
TecsChange, in collaboration with Tonantzin, hosted the Boston stop of the IFCO/Pastors for Peace caravan to Mexico and parts of Central America. Click here for photos of the event.
2000 and previous
Dr. Barreda, National Autonomous University of Mexico
Presentation at TecsChange, October 1, 2000
Dr. Barreda (Pictured below) spoke on how environmental issues, strategic resources and biodiversity correlate with militarization, paramilitary presence and repression of indigenous communities in Chiapas, Mexico. Professor Barreda is on the forefront of looking at bio-piracy and genetically altered seed issues in jungle and indigenous areas. About 25 people attended the presentation.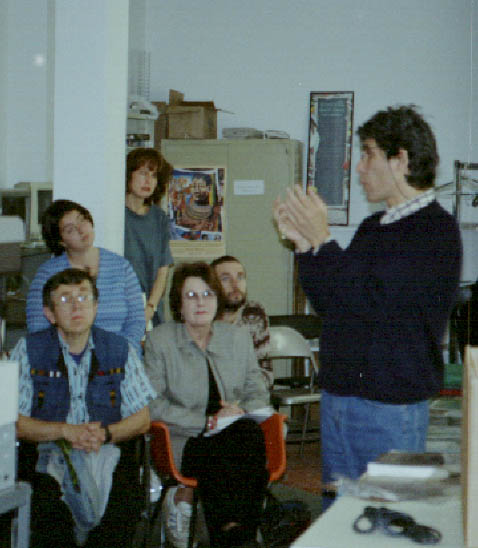 ---

IFCO/Pastors for Peace Caravan, Spring 2000, to Chiapas, Mexico
March 11, 2000
The caravan passed through Boston in March of 2000, and TecsChange hosted a sendoff event held at our Roxbury, MA workshop, in collaboration with Tonantzin, the Boston Committee for support of Chiapas. The featured speaker was the founder of Pastors for Peace, Reverend Lucius Walker, Jr. Click here for photos of the event.
Internet Access in Nicaragua... Where There Are No Roads
November 1998
TecsChange organized a presentation titled Internet Access Where there are no Roads and reported on an effort to bring internet access to URACCAN, the University of the Autonomous Regions of the Atlantic Coast of Nicaragua.
Telephone Privatization in Latin America
November 1996
TecsChange sponsored a discussion on privatization of telephone service in Latin America, featuring Wilmer Erroa Argueta, secretary of national and international relation at ASTTEL (El Salvador's telecommunications employees' union). It was held at Massachusetts Institute of Technology on Thursday November 21, 1996. As a result of this event, we started to collect information on the status of telecommunication service throughout the continent (with particular emphasis on privatization in the developing world and the conditions of telecommunications workers). Click here for more information.
---
For more information
about our educational presentations or to get involved,
send an email to tecschange@tecschange.org or call us at 617.442.4456.


Return to TecsChange home page
33 Harrison Ave. 5th Floor • Boston, Massachusetts • 617.963-0262 (Skype)
e-mail: info@tecschange.org • web: http://www.tecschange.org
Directions